Fyftjin en Fierder… Past and Passion of
the Elfstedentocht.
On January 2, 1909, the first Elfstedentocht began with 22 skaters making a journey of 200 kilometers over the ice. 14 more chapters would follow over the years. The coldest was in 1963, with temperatures of -20˚ and high winds. The last took place in 1997 with almost 17,000 skaters. That last Tour is now longer ago than ever. Still, every year it only has to freeze for a short while before skating fever strikes: Another Elfstedentocht this year, would it?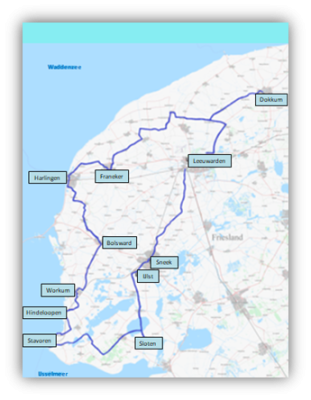 'Fyftjin en Fierder':  15 Tours… 1 Future!
The artist, Pieter Jan Stallen, has depicted this great past and high desire by sturdy silhouettes of Corten steel:                                                .
– 15 on the north side of Tjerkwerd, one for each year of the Tour.                                           .
– 1 single silhouette on the village bridge: a girl on her father's shoulders, pointing into the distance: "…the reed riders…soene se noch komme…?" *
Fyftjin en Fierder lies at the midpoint of the Elfstedentocht and is a landmark structure, just like the honorary arch at the finish and the 'tiled bridge' at Gytsjerk. But it is also an iconic work for other reasons. Residents of the village themselves served as models(link) for each of the silhouettes, with the exception of 1986. For that 1986 silhouette, the artist chose a special participant from that year: W.A. van Buren, the then Crown Prince of the Netherlands. The artist asked children from all primary schools in Súdwest-Fryslân what they believed the girl on her father's shoulders was thinking. From the submissions, four 6e grade childeren from the Tjerkwerd primary school(link) selected the best idea, ably assisted by Klasina Seinstra (1997 Elfstedentocht winner).
And then there's still is that one kid's boot next to the two big boots. What is going on there? "Good question," says the artist. "That one boot, that says it all. The central piece of the art to me. Beginning and end, just look closely."
'Fyftjin en Fierder' was unveiled in two steps:  by the 'local' models(link) on December 17th 2021, and officially by Tineke Dijkshoorn (1986 Elfstedentocht winner), together with Lenie van der Hoorn (1985 winner) and Henk Angenent (1997 winner) on by February 26th , 2022.
Translated by: Alan Sanfey
_________________
* Frysian for: "… the ice skaters… will they come…?"